< previous | next >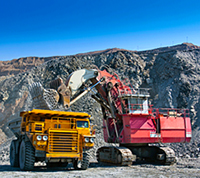 When the time comes to repair or replace a worn slewing bearing, mine operators across North America, Australia, and Africa are choosing Kaydon Bearings over the OEM. The reason is simple: they're saving anywhere from $100,000 to $250,000 with Kaydon new replacement and remanufactured bearings.
Extended equipment life
It's no secret that money is tight for mine operators. A survey by Coal Age magazine found that 56% of US respondents had decreased their capital budget and, for the second straight year, equipment upgrades have taken priority over new equipment. With existing equipment needing to work harder than ever, Kaydon provides an ideal way to lower costs while improving performance.
Real-world savings
Two US mines saved more than $200,000 each by ordering new Kaydon replacement bearings for their Hitachi EX5500s.
An Australian mine replaced an O&K RH200 bearing with a Kaydon remanufactured core, saving more than $250,000.
An Appalachian Basin mine bought a new Kaydon replacement slewing bearing for its Cat 5230, saving more than $100,000.
The savings speak for themselves. But what about the quality? That's the best news of all. Kaydon replacement or repaired slewing ring bearings perform as well if not better than OEM bearings and last as long or longer. Kaydon replacement bearings come with a prorated two-year warranty*, and Kaydon remanufactured bearings feature a one-year warranty.
Kaydon remanufactured a Hitachi EX3500 slewing bearing to as-new condition for a top US coal producer. "The bearing now has 29,000+ hours operation on it, and is still exhibiting clearance well within the limitation," says the materials manager. "We saved more than $200,000 compared to the price of a new bearing from the OEM."
How much will you save?
Kaydon remanufactures some 1,500 slewing ring bearings each year, in a dedicated, ISO 9001:2008 facility in the USA. "We'll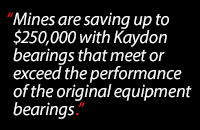 inspect a worn bearing sent in by the customer or use a core from our inventory, and remanufacture it to like-new condition," said Ron Shaw, Kaydon remanufacturing manager. "We also reverse-engineer and manufacture new replacement bearings that meet or exceed any OEM's specifications." Either way, customers enjoy substantial savings.