Kaydon mining newsletters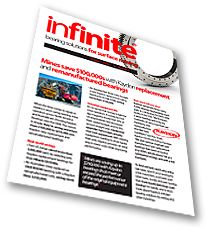 Mining operators are saving up to 60% by choosing Kaydon replacement bearings over the OEM. Kaydon, an SKF Group brand, offers new replacement and remanufactured slewing bearings for hydraulic excavators, shovels, stacker reclaimers, and other large mining machinery. Kaydon replacement bearings perform as well as or better than the original OEM bearing.
Learn more about how some of the world's largest mines are saving up to $250,000 with Kaydon, in our surface mining newsletter.

Mines save $100,000s with Kaydon replacement and remanufactured bearings
As capital budgets shrink, existing equipment needs to work harder than ever. Kaydon provides the ideal way to cut costs without sacrificing quality. Find out how much top US and Australian mines have saved, and learn more about the Kaydon remanufacturing program.
Performance + cost savings = Kaydon remanufactured slewing bearings
Kaydon remanufactured bearings meet or exceed OEM specs; last as long or longer than a new bearing; and come with a one-year warranty. All this, at savings up to 60%. Find out what major mine operators have discovered first-hand and learn more about Kaydon's history of solving the world's most demanding bearing challenges.
Flight critical engineering and mine-friendly pricing
Kaydon Bearings brings decades of engineering experience and expertise to every bearing we design, build, or remanufacture. Whether it's flight-critical bearings for fighter jets and helicopters or a remanufactured slewing bearing for hydraulic excavators, Kaydon customers can count on improved performance and reliability. What's more, mine operators can save up to 60% by choosing Kaydon.


Log in to access Slewing Bearing 3D models & CAD files. Access Thin Section Bearings at SKF.com

Forgot password? | Register