< previous | next >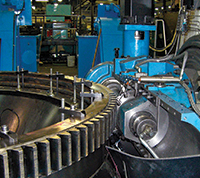 When the time comes to replace a shovel or excavator slewing bearing, you don't need to sacrifice performance for cost savings. Kaydon remanufactured bearings offer like-new performance with savings up to $250,000 compared to a new OEM replacement.
Quality you can count on: Kaydon Bearings
Kaydon applies engineering experience and expertise to solve the world's most demanding bearing challenges. Since 1941, Kaydon has been designing and manufacturing bearings for industries including aerospace and defense, medical systems, semiconductor, and heavy equipment. Kaydon invented the thin section bearing, and is the North American slewing ring bearing leader in the most demanding markets.
Like-new performance at a fraction of the cost
Mine operators in North America, Australia, and South Africa—in fact, all around the world—have learned first-hand that a Kaydon remanufactured slewing bearing meets or exceeds OEM specs and lasts as long or longer than a new bearing, all at savings up to 60%.
A top-5 US coal producer chose a Kaydon remanufactured slewing bearing for its Hitachi EX3500 and saved more than $100,000. Even after 35,000+ hours, the bearing still recorded deflection well within the limitation.
A Midwest mine saved more than 50% by having Kaydon remanufacture its worn Demag H185S bearings to like-new condition.
It all adds up
Kaydon remanufactures some 1,500 slewing ring bearings each year for cranes, shovels, excavators, and other big machinery at a dedicated, 100,000 sq. ft., ISO 9001:2008 facility in Avon, Ohio, USA.
Kaydon remanufactures bearings up to 6.1 m, regardless of the original manufacturer. The rigorous process includes inspection of turning torque, free-state clearance, gear size, and external features.
Non-destructive testing performed includes magnetic particle inspection and hardness readings. Bearing races are precision-ground to the proper geometry to optimize the bearing load-carrying capability. The bearing is then assembled with new rolling elements, spacers, and seals, and packed with lubricant before final inspection.