Kaydon bearing remanufacturing program
Whatever your industry, you're probably looking for ways to increase productivity, prevent unplanned downtime, and lower your total cost of operation. SKF and Kaydon remanufacturing services provide a proven solution.
Benefits of bearing remanufacturing
SKF and Kaydon remanufactured bearings perform as well as brand-new bearings and can significantly reduce initial costs—up to 75% compared to the cost of a new bearing. SKF and Kaydon Bearing Remanufacturing Services can extend bearing life cycle by 50% or more, reduce total life cycle costs, and decrease unplanned downtime. Remanufacturing is especially beneficial for bearings exposed to harsh conditions, like those used in mining, pulp and paper, metals, and construction. We repair bearings as small as 10" (25 cm) and as large as 315" (8 m).
See how the SKF Birmingham Solution Factory inspects bearings that were slated for scrapping and expertly remanufactures them to like-new condition for extended service.
Engineering expertise and cost savings
Our approach to bearing remanufacturing mirrors our manufacturing effort. The experienced remanufacturing staff at Kaydon, an SKF Group brand, is supported by expert engineers and dedicated, state of the art equipment. Our bearing remanufacturing process has been designed to return the bearing to service in the shortest possible time and ensure the highest quality workmanship.
Kaydon slewing bearing remanufacturing service includes:

Free inspection on slewing bearings up to 8' in diameter
Inspection in one week or less
Non-destructive testing performed as needed
Engineering analysis
Formal analysis reports for all inspections
Four week turnaround time for bearings 8' and under, and just a few more weeks for bearings 8' to 20' in diameter
Substantial savings versus the price of a new replacement bearing
Stringent ISO 9001:2008 quality program
Emergency remanufacturing services
One year warranty for all remanufactured bearings
A wide variety of bearings are eligible
SKF and Kaydon can remanufacture most roller bearings up to 41.3" (1,050 mm) in diameter:

Spherical, tapered, and cylindrical roller
Caster bearings
Backing bearings
And slewing bearings up to 315" (8 m) in diameter:

Four- and eight-point contact ball
Cross and three-row roller
At dedicated remanufacturing centers worldwide, the SKF and Kaydon bearing remanufacturing process helps industrial machinery owners prevent unplanned downtime and lower their cost of operation.
If a bearing is beyond repair, we can design and manufacture a new replacement. Mine operators can enjoy significant cost savings compared to the OEM with our inventory of slewing bearings for popular hydraulic excavators and shovels.

Read the Kaydon mining newsletter, white papers, case studies, and FAQs to learn more about the advantages of bearing maintenance, repair, and replacement.


Log in to access Slewing Bearing 3D models & CAD files. Access Thin Section Bearings at SKF.com

Forgot password? | Register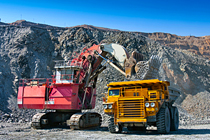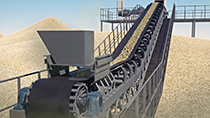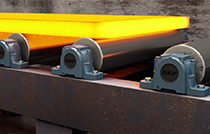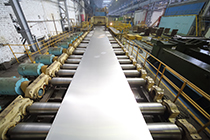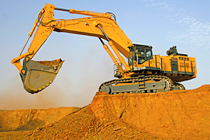 Download the SKF Bearing Remanufacturing Services brochure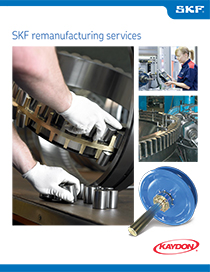 Download the Kaydon Remanufactured Slewing Bearings brochure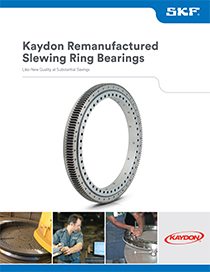 Download the SKF Kaydon Remanufactured Pitch and Yaw Bearings brochure