Kaydon case studies
Small, smaller, thin section bearing—
a robot technology application example shows why thin section bearings from Kaydon are ideal for use in the head axis of a laser robot
"There are a number of laser robots on the market, but you can only get this unique combination of laser and robot from us," says Stefan Maier, managing director of robot manufacturer Robot-Technology GmbH. "This combination has given rise to a perfect tool for machining plastic and metal components."
Robot-Technology, headquartered in Großostheim, Germany, develops robot-assisted automation technology for the plastics and metal industries. The company specializes in a number of core areas of interest, including laser cutting plastic components. Robot-Technology has developed the laser cutting robot Robocut specifically for this task.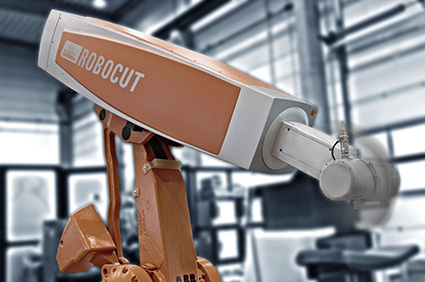 The primary application field of the laser robot from Robot-Technology
is in cutting plastic cladding parts in the automotive manufacturing industry
(Photo courtesy of Rodriguez GmbH)
During development of the Robocut, designers briefly encountered a challenge finding the correct special bearings for the Robocut's head axis. Since the installation space for the bearing assembly was limited, Robot-Technology needed bearings that were very thin in cross section but had a relatively large diameter. They needed it to be as tough as possible, because dust and gases are created in laser cutting that can interfere with function.
"There were not many providers on the market who could satisfy this combination," recalls Maier. In the course of its search, Robot-Technology discovered Reali-Slim® thin section bearings from Kaydon, an SKF Group brand. "We were very impressed by the options the thin section bearings opened up for us," says Maier.
"When every gram counts and the success of the application depends on miniaturization and compact construction combined with large hole diameter, thin section bearings are the right choice," notes Ulrich Schroth, branch manager of Rodriguez, the German distribution partner for Kaydon.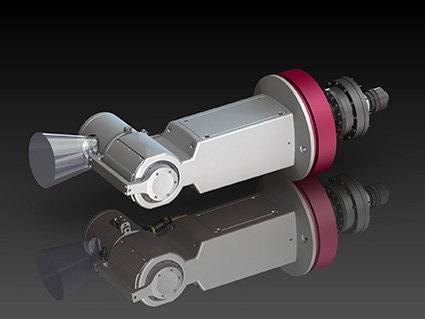 Two metric Reali-Slim thin section bearings from Rodriguez
are fitted in both the drive axis and the outer ring of the Robocut
(Photo courtesy of Rodriguez GmbH)
Robot-Technology designers implemented Reali-Slim MM® metric thin section bearings for the driveshaft and the rotating external bell housing, making it possible to switch from scanning to jet mode. "The scanner axis is designed so that the gearbox side is on one side and the driven side, containing the laser outlet, is on the other side," explains Maier. "Not only can the bell housing be rotated via the robot axis and shifted from one side to the other with a locking cylinder, it is also mounted so as to be rotatable." Accordingly, the robot can be used either as a scanning robot with a processing field of about 200 mm x 200 mm or a jet robot with integral air feed.
Kaydon Reali-Slim thin section bearings are based on a single cross-section, which remains constant even as the hole diameter increases. Therefore, solid shafts can be replaced with hollow shafts. The interior of the hollow shaft provides space for components such as air or hydraulic lines, electrical wiring or slip rings.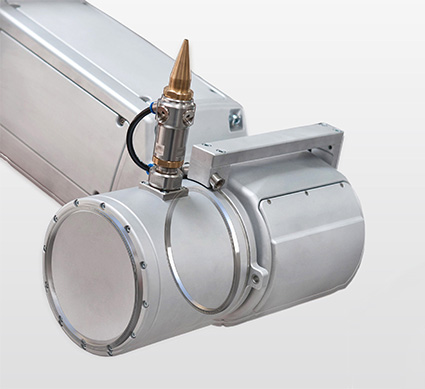 The Robocut's head axis only offered very limited installation space—
very thin bearings with a large diameter were needed
(Photo courtesy of Rodriguez GmbH)