Kaydon case studies
Kaydon thin section bearings perform precise tasks in harsh outer space environment
Thin section bearings from Kaydon will once again go to work at the International Space Station (ISS) inside CAESAR, the Compliant Assistance and Exploration SpAce Robot. CAESAR will be installed in the ISS, roughly 250 miles (400 km) above the Earth's surface.

The CAESAR robot arm was developed by the DLR and is mounted on the outside of the ISS to carry out service tasks in support of scientific and technical experiments
(Photo courtesy of DLR)
CAESAR is part of a new generation of robots that combines innovative electronic and mechanical engineering. The 132 pound (60 kg) robot is equipped with a 10 ft long arm that will perform scientific and commercial experiments regarding weightlessness. The exceptionally flexible folding robot arm is tasked with grabbing and stabilizing satellites that orbit erratically or have become unresponsive. The robot arm has seven degrees of freedom, the number of freely selected motion capabilities of the human arm, endowing it with greater flexibility than a standard robot.

With its seven articulations, CAESAR is as agile and flexible as a human arm
(Photo courtesy of DLR)
Kaydon thin section bearings the obvious choice
"Each articulation consists of a synchronous motor with a commutation sensor, a harmonic drive pinion and angular contact bearings, the torque sensor, and a common position sensor," said Erich Krämer of the German Aerospace Center (DLR), which developed CAESAR. "The choice of thin section angular contact bearings was made on the basis of their efficiency in absorbing both radial and axial forces, and their particularly space-saving design."

Each articulation connection on CAESAR weighs about three kilograms and generates output torque of 80 Nm at a maximum 10 degrees per second
(Photo courtesy of DLR)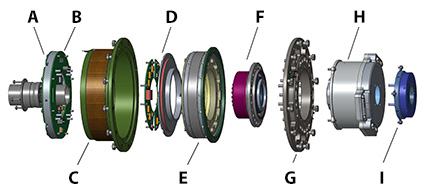 The key to CAESAR's high performance capability resides in its
seven intelligent impedance and position-controlled articulations.
For this, Rodriguez supplied the thin section bearings from Kaydon.
(A) Sensor signal junction
(B) Joint torque and position sensor
(C) Joint torque wheel
(D) Joint position sensor
(E) Joint bearing
(F) Harmonic gear drive
(G) Motor flange
(H) Motor robo drive
(I) Brake
(Photo courtesy of DLR)
Kaydon Reali-Slim bearings successfully guaranteed trouble-free movements for the articulations of the ROKVISS robot, CAESAR's predecessor at the ISS.
"The bearings have demonstrated their effectiveness in space for years," said Krämer. "Immense load-bearing capability, reliability, and indeed the experience in space applications were decisive arguments for choosing Kaydon thin section bearings."

For the development of the robot arm, the DLR was able to draw on its experiences with ROKVISS, the predecessor model which served in space for five years
(Photo courtesy of DLR)

CAESAR can extend to a maximum length of three metres. In its compact retracted configuration, it easily fits in a maintenance satellite.
(Photo courtesy of DLR)
Trouble-free motion and force control
"The Reali-Slim series, on which the thin section bearings used here are based, can withstand the harshest operating conditions," said Ulrich Schroth, product manager with Rodriguez, Kaydon's German distributor, which manages the project. "They feature a compact design, outstanding precision, and are ideal for applications with such extreme demands."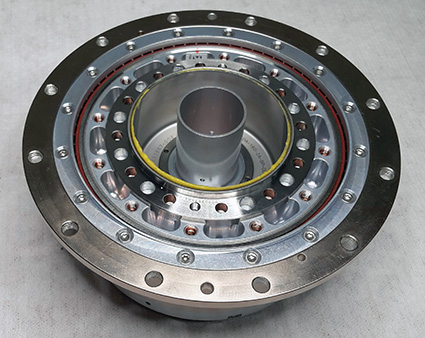 A structurally integrated torque sensor in the articulations returns torque values without friction influences in the bearings or the gearbox
(Photo courtesy of DLR)
CAESAR can be operated semi-autonomously, by tele-command, or with tele-presence and force feedback. An impedance controller allows the arm articulations to yield and prevents them from damaging objects. The integrated torque sensor system detects unintended contact with the surroundings and enables appropriate responses, which represents a critical safety feature, particularly in cooperation with astronauts. Since there is no gravitational load in space, all connections have the same torque capacity. Fast-control circuits in the articulations and a high-speed, real-time communications bus connecting the articulations to the robot control unit ensure trouble-free motion and force control. The connective construction includes a hollow shaft to enable internal wiring.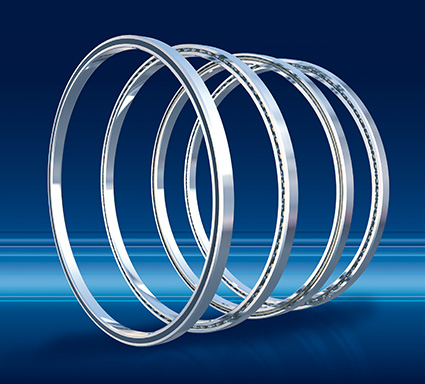 Kaydon thin section bearings supplied by Rodriguez had already proved
their capabilities successfully in the ROKVISS robot arm,
and were installed again in the new model
(Photo courtesy of Rodriguez GmbH)
The radiation hardness and service life of CAESAR has been set at 15 years of operation in geostationary orbit. The robot is designed for temperatures between -4°F and 140°F (-20° Celsius and +60° Celsius). The system may be adapted for other applications in the future, including various carriers, satellites, or spacecraft. "If a technology transfer of the CAESAR space robot to an industrial partner goes through, the cooperation with Kaydon will certainly continue as well," said Krämer.