Muskegon, Michigan, USA...SKF Group, parent company of Kaydon Corporation, has opened a new Kaydon Bearings manufacturing facility in Cajamar, São Paulo, Brazil. The 71,000 sq. ft. plant produces slewing ring bearings for the Brazilian wind energy market.
The factory is a logical extension of Kaydon Bearings' leadership position in the North American renewable energy market and SKF's ongoing investment in Brazil. Kaydon has been supplying pitch and yaw slewing ring bearings to wind turbine manufacturers for more than 25 years. Kaydon bearing solutions support critical requirements in a variety of systems, including high and low wind speed, land-based or offshore, from 200 kW to 5.0 MW.
"The opening of the new plant and the celebration of this important date is a time to reaffirm our commitment to Brazil," said Alrik Danielson, SKF Group president and CEO. The inauguration of the facility coincides with the 100th anniversary of SKF's presence in Brazil.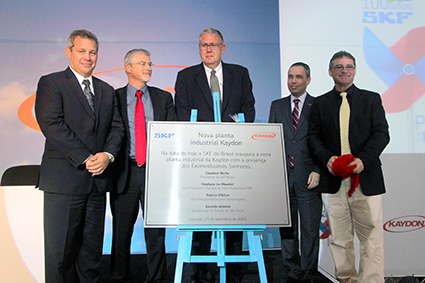 Installed wind capacity in Brazil is predicted to reach 7904 MW by the end of 2015, an increase of 62% over last year, according to the country's Ministry of Mines and Energy. Growth in the Brazilian wind energy market continues to generate greater demand for parts and equipment.
Kaydon is the leading supplier of wind turbine bearings to GE, which recently announced a 70% increase in wind turbine production capacity. "This new facility is a great example of how we are expanding our portfolio on a global scale, now offering renewable energy customers a wider range of products that help deliver an improved environmental performance," said Claudinei Reche, president of SKF do Brasil.
Operations at the $22 million plant, located near SKF Brazil headquarters, will conform to international LEED certification sustainability standards.
The project received support from Investe Sao Paulo, a promotion agency of investments linked to the Department of Economic Development, Science, Technology and Innovation of the State of São Paulo. "The renewable energy market is important to move the economy with quality jobs and sustainable development, and a priority of our agency," said Juan Quirós, president of Investe SP.
Kaydon Bearings, an SKF Group Company, is a leading designer and manufacturer of custom-engineered, performance-critical products, supplying a broad and diverse group of alternative-energy, industrial, aerospace, medical, and electronic equipment, and aftermarket customers.