Kaydon case studies
Kaydon Ultra-Slim
®

bearings bring exceptional precision to laser communication terminals

Until recently, the real-time transmission of aerial photographic images relied on microwave communication, which is subject to physical and regulatory constraints that limit transmission rates.

"Modern camera systems for aerial photography generate a lot of data," says Dr. Markus Knapek, CEO of ViaLight Communications GmbH. "If the images that have been captured are to be provided for analysis rapidly and transmitted to a ground station while the aircraft is still in the air, the communication link often constitutes the bottleneck."

The coarse alignment unit in the MLT-20,
based on a two-axis tilt mechanism with direct drives.
(Photo courtesy of ViaLight Communications GmbH)
ViaLight develops laser communication solutions that make it possible to transmit enormous quantities of data from the sky. The company's solutions are less bulky and more powerful than conventional wireless devices, and are also very difficult to intercept, making them ideal for reconnaissance, defense, telecommunication, science, and film industry applications.
ViaLight's MLT-20 micro laser communication terminal is highly compact, weighs just 11 to 18 lbs (5 to 8 kg), and is optimized for the dynamic behavior of agile, high-vibration aerial platforms such as drones and helicopters. The MLT-20 is equipped with an innovative coarse alignment mechanism that requires little energy and can dissipate heat efficiently. The terminal transmits data at impressive rates of up to 10 Gbps over distances of up to 31 miles (50 km).
Exacting requirements for the design's bearing
Because the laser terminal must track the ground station flexibly in order to maintain the data link, the MLT-20's coarse alignment unit features a two-axis tilt mechanism with direct drives. To ensure optimum transmission of the laser beams, the alignment mechanism must operate with an extraordinarily high degree of precision. This can only be achieved by eliminating non-linear friction within the system as completely as possible.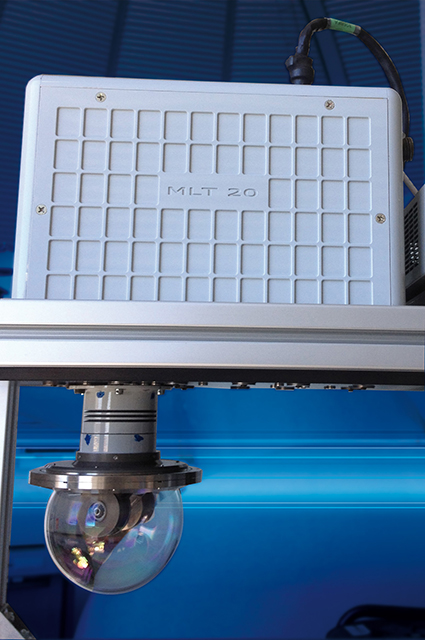 ViaLight's compact MLT-20 micro laser communication terminal.
(Photo courtesy of ViaLight Communications GmbH)
"For operation in the azimuth axis of the coarse alignment unit, we wanted to find ball bearings which were able to satisfy these strict requirements," says Markus Knapek, CEO and managing director of ViaLight. "The most important characteristics for us were extreme precision and speed, low friction, small dimensions and low weight."
ViaLight chose the Ultra-Slim® bearing from Kaydon, an SKF Group brand.
"Because of these special bearings we have been able to improve the precision of our coarse alignment unit significantly," says Knapek. "This has been confirmed in demanding practical tests such as the most recent ones in the Canary Islands, during which laser beams were transmitted over a long distance of 145 km (90 miles)." The distance of 145 km was not chosen at random: it is roughly equal to the distance a laser beam must travel to reach the Earth from space.
Ultra-Slim delivers outstanding performance
Kaydon distributor Rodriguez GmbH recommended Ultra-Slim thin section bearings to satisfy all project requirements. Ultra-Slim bearings are unique in that each series is based on a single, small cross-section which remains constant even as the bore diameter increases. Thus they provide a compact, lightweight design while still permitting cables or shafts to pass through the bore. The extremely thin bearings deliver outstanding performance in diameters from 35 to 170 mm and a particularly small cross-section of just 2.5 to 3 mm. The laser terminals from ViaLight make use of stainless steel Ultra-Slim thin section bearings with dimensions of 60 x 66 x 2.5 mm.
"Stainless steel is a good choice when extreme precision and corrosion resistance are both required, as in the case of ViaLight," says Ulrich Schroth, division manager for value added products at Rodriguez. "Typical application areas for thin section bearings are space flight, the semiconductor industry, and medical technology."
ViaLight Communications GmbH is a spin-off enterprise of Deutsches Zentrum für Luft- und Raumfahrt (DLR) with a focus on free-space optical communications.